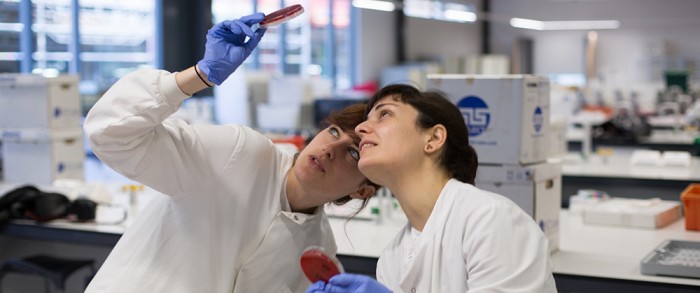 Exploring Artistic Practice using Microbiological Systems
Workshop, Lancaster University, 25th & 26th March, 2015
The Biomedical and Life Sciences (BLS) Division at Lancaster University has opened its doors to artists to explore the theory and practice of microbiological processes. This unique opportunity involved five UK based artists, Brian Degger, Marina Tsatsara, Inés Cámara Leret, Stephen Fortune and Thiago Hersan and four LICA art students, Rachel Daniels, Macarena Castillo, Amelia Roberts and Molly Vaughan Wallis, who experienced a hands-on work in the microbiology research labs during a two day workshop. The workshop was produced in partnership with the Insight research group, Live@LICA and Abandon Normal Devices, and was funded by The Society for General Microbiology.
The aim of the workshop was to bring artists and scientists together as equal partners with a view to developing new hybrid projects and proposals in the arts and to explore the idea of the science lab as an artists studio. Through hands on experiments in the lab we explored several themes; Linguistic communication and social intelligence of bacteria; selective growth and killing; and performativity in the microbiology research lab. By transposing what we had found interesting in the lab into performances and presentations in the Peter Scott Gallery we aimed to explore the practical actions and conceptual framing of the scientific process.
The workshop is the first step in developing new hybrid projects, and we are actively looking to build new collaborations with artists and scientists in the future. If you are interested in getting involved please contact Jen Southern (j.a.southern@lancaster.ac.uk) or Rod Dillon (r.dillon@lancaster.ac.uk).