Artist Talk. Relocating the Landscape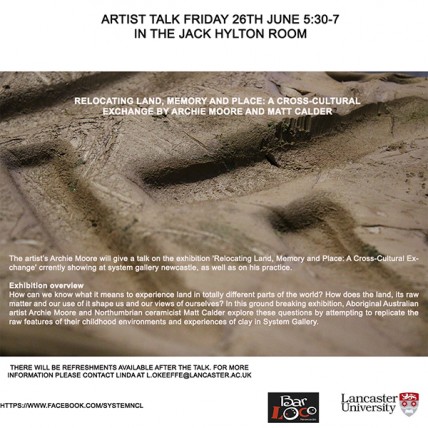 The Australian aboriginal artist Archie Moore will give a talk on his current collaborative exhibition with Matt Caldor, taking place at the System Gallery in the Jack Hylton space on Friday the 26th of June from 17:30, a fitting end to the academic year.
Moore's (b. 1970) conceptual practice includes paintings, drawings, sculpture, installation, photographs, video and, more recently, aromas embedded in Aboriginal politics as well as the broader concerns of racism, language, identity and interpersonal relationships. Language in particular plays a constant role, as do the concepts of dwelling and dwellings. Being in one's skin and the question of whether or not it is possible to experience someone else's experiences is an ongoing theme.
Since 2012, Moore has produced two major bodies of work around the concept of flags (Flag and 14 Queensland Nations (Nations imagined by RH Mathews)), a series of portraits in perfume based on memories (Les Eaux d'Amoore) and compelling sculptural works that employ altered readymades or assemblages (Snowdome, Black Dog).
We are delighted to have him give a talk on both this show and his practice and hope that you can attend the evening. There will be light snacks and tea/coffee available.
For more details please contact Linda at l.okeeffe@lancaster.ac.uk.