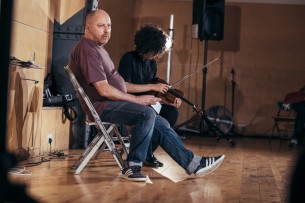 Seeping Through is a performance collaboration with violinist Aisha Orazbayeva, comprising a stream of spontaneous and fragmentary improvisations in which spoken text and music are treated as equals; fluid forces in the same space and conversation, creating a dynamic and always unstable landscape.
The work with Aisha will be showcased in a live performance to launch our Seeping Through EP on PRAH Records, at Dalston Boys Club, London, N16 8JG, on 10 November 2015 at 7pm. More information here.
The project continues and develops my explorations around spoke word improvisation with the solo performance A Broadcast / Looping Pieces. The solo — an improvised work using text fragments — is presented on Saturday November 7th and Saturday November 14th at BAC (Battersea Arts Centre), in London, at 5pm. More information here.
On the dates above you can also see the adaptation I made with Forced Entertainment, of Agota Kristof's brilliant novel The Notebook, which plays at BAC from 3–14 Nov at 7.30pm (no performance on the 8th). More information here.