Research in a Box: Activating Women in Sound in a Box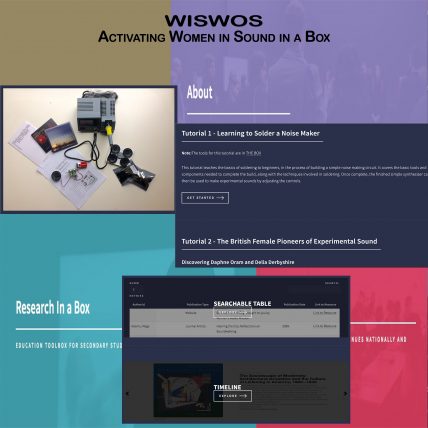 Women in Sound Women on Sound is delighted to Launch our new project Activating Women in Sound in a Box.
WISWOS identifies the need for action to tackle issues of inequality and gender bias in sound and music technology. Our current project, Research In a Box aims to make pedagogical interventions to bring women and young girls into inclusive learning zones.
'Research in a Box' is a loanable kit aimed at GCSE or A‑Level school students that fits in with the appropriate curriculum and at the same time showcases resources used by researchers. The aim is to inspire the next generation of researchers and to aid in the transition of pupils from school to University.
The RIB box developed by WISWOS is called Research in a Box: Activating Women in Sound.
The loanable box contains a series of toolkits for would be noise makers to construct their own instrument, CDs of women composers and publications by female academics on sound and music technology, as well as open access live coding software to install on most operating systems.
The online tutorials feature women makers and composers presenting tutorial videos on instrument building — learning how to Construct the Noise Maker in the box, the History of Women in Music Technology, Live Sound Engineering, and an introduction to Sonic Pi, the live coding application in the box.
The online space also features interactive research spaces to explore the contribution of women authors to the fields of sound, music technology, audio arts, acoustics, music history, audio cultures, plus much more. Click here to access our online Box
The physical boxes are available to rent from Lancaster University.