Common Grounds: Lace Drawn from the Everyday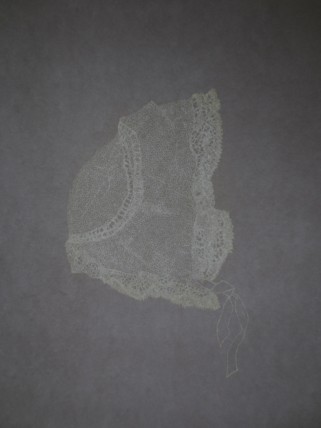 The project is a collaboration between artist and lace specialist about unseen lace of ordinary people stored at The Bowes Museum. Unlike lace in the main Blackborne collection, which is technically complex, rare and exquisite, this lace is that of ordinary people. It has lain unexamined in trunks for 100 years.
Our idea is that drawing can both examine the lace and present its story creatively to the public. E.g. drawing with oil on paper produces transparent images illuminated by light literally bringing invisible to light. The project seeks to revalue this overlooked lace, bridging a gap between high art and everyday to stimulate new audiences. It test this model for collaborative socially engaged drawing practice between artist and museum.
The drawings emerging from the research will result in an exhibition at the Bowes Museum in May – June 2015. One of the drawings produced from this work was shortlisted for the Jerwood Drawing Prize 2014 and is exhibited with the touring exhibition around the UK in 2014 ‑15.