Professor of Theatre and Performance Andrew Quick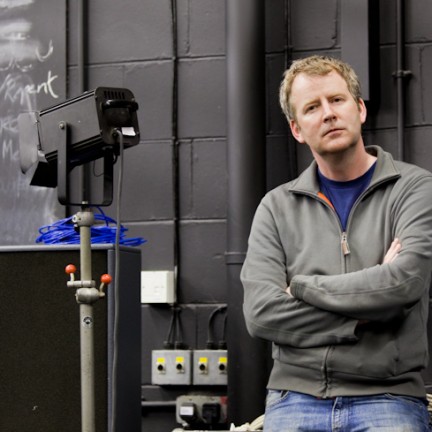 Specialist areas
Biography
Andrew Quick studied English and Philosophy at Newcastle University and trained as a theatre director at the Sherman Theatre in Cardiff in 1984. Having worked professionally in making and touring experimental performance, he returned to academic study in 1989, completing a PhD investigating the histories and languages of contemporary British experimental performance at Bristol University. He has worked at Lancaster since 1991, where he teaches undergraduate courses in the areas of Experimental Performance as well as teaching on practical units. Quick is also a founder member of imitating the dog, an Arts Council funded performance company that tours nationally and internationally. For further information see imitatingthedog.co.uk
His written academic work is closely bound up with contemporary art practices and much of his writing on performance, photography and installation investigates concepts of space, play, technology, documentation, scenography and performance ethics. He is the author of The Wooster Group Work Book (Routledge, 2007), the first major publication on this leading New York theatre company since David Savran's Breaking the Rules (1986). He was co-editor of Shattered Anatomies (ArnolfiniLive, 1997), Time and Value (Blackwell, 1998) and On Memory (Routledge, 2000). 
RESEARCH SINCE 2007
Quick researches into four main areas: contemporary experimental art practice, with an emphasis on performance, installation and photography; documentation and process in performance; performance ethics; and practice-based research. He has published on Forced Entertainment, Impact Theatre, The Wooster Group, Fiona Templeton, Yoko Ono, Robert Longo, Tony Oursler, Willie Doherty, Victoria Theatre, Ken Feingold, Dennis Oppenheim, desperate optimists, Richard Foreman. Quick's practice-based research has primarily been pursued in collaboration with Leeds based theatre company imitating the dog. He has co-written and directed with long time collaborators Pete Brooks and Simon Wainwright a number of works that include Arrivals and Departures (2017, Hull City of Culture), The Train (2015/16), A Farewell to Arms (2014), Sea Breeze (2014, with Raisin and Willow), The Zero Hour (2012), 6 Degrees Below the Horizon (2011), Tales From the Bar of Lost Souls (2010), and Hotel Methuselah (2006/7). This research interrogates contemporary notions of narrative and screen technologies and the relationships between live and recorded presences.
Quick was a co-investigator on the AHRC funded Creative Exchange (2012-16) and is currently a co-investigator with Dr Richard Rushton on the AHRC funded network project 'Theatricality'. He has seen ten PhD students to completion and welcomes applicants who are interested in performance based practice as research, experimental theatre, performance documentation, performance and the body, performance ethics, new scenographies, performance and technology, performance and place, new writing and performance.
Students