Nocturnes: A work in progress with imitating the dog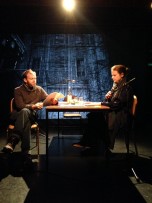 Following A Farewell to Arms (2014) and The Train (2016), Quick's work with imitating the dog returns to the mid twentieth century and on this occasion the world of Cold War espionage. It is an imagined landscape we know well from the novels of John le Carré and Len Deighton, particularly Michael Caine's iconic working class anti hero Harry Palmer. Edward Woodward's Callan, made for television in the 1960s and early 70s, also casts a shadow.
Three performers on stage appear to provide the voice and soundtrack to a film being projected onto a screen above them. It is a 1950s spy thriller set in Berlin and London. At first the relationship between the two media seems straightforward, but gradually it becomes unclear whether the film is following the live performers or vice versa. As the live performers appear to go off script the film performers are forced to steer the narrative in increasingly bizarre directions in order to keep the film action and the live sound unified and coherent.
See http://www.imitatingthedog.co.uk/portfolio/nocturnes/ for a short documentary on making the work in progress.
Nocturnes will tour from August 2017.