MIRRORS — Pip Dickens: Solo Exhibition of New Works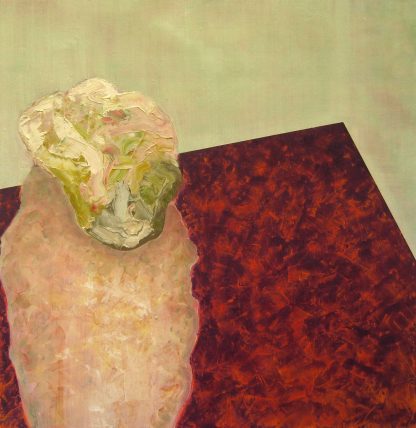 Mirror Head 2, oil on canvas, copyright Pip Dickens
MIRRORS – PIP DICKENS
A solo exhibition of new exploratory paintings by Pip Dickens
This new exhibition of paintings by artist, Pip Dickens, explores the phenomenon of mirrors and how we might see ourselves reflected in them. She examines the mirror as a magic device — a portal through which, like Alice and her Looking Glass, we might climb through to explore worlds both familiar and unfamiliar.
"Dickens offers troubling, deliberately ersatz images of humans; personified mirrors stare out blankly, inviting us to stare back, in the hope of catching a glimpse of ourselves in our familiar world… Like the un-dead, looking into them we are denied our own reflection and the steam of our breath on glass. It's unsettling to be robbed of our image and to be confronted with our absence; all proof of existence which mirrors normally attest has been expunged". (extract from comissioned essay by Kevin O'Brien, Senior Associate Lecturer in Fine Art, Leeds Beckett University).
Dickens' images are not always in harmony with their surroundings — some are whimsical, some seem dark or disturbing but most attempt to question through animation of the inanimate to what degree we use masks of our own making to deflect others from seeing our true selves.
What are these figures? Where are they? And why do they challenge our gaze? Some seem lost in their dream world on the other side of the glass.
Cinema's 'Master of Suspense', Alfred Hitchcock remarked: "There's no such thing as a face—it's non-existent until the light hits it." We may say the same about our relationship with mirrors and also the phenomenon of the Selfie. Dickens explores the enigma of self-scrutiny, reflection and mirrors in a manner which is both playful and confrontational.
'MIRRORS – Pip Dickens' is funded by Arts Council England, using money from the National Lottery and also supported by Lancaster University.
Catalogue available ISBN: 978−1−86220−340−2. Commissioned Essay by Kevin O'Brien, Associate Senior Lecturer in Painting at Leeds Beckett University. Contact p.dickens@lancaster.ac.uk for more information.


THE STOREY
Meeting House Lane, Lancaster, LA1 1TH
Private View: 15th November, 6.30–8.30pm
Exhibition Dates: 14–24 November 2017
Exhibition Walk and Talk: Saturday 18 November 2017
Workshop for Schools: 17 November by Macarena Rioseco and Hyeyoung Maeng